A Great Dinner at Rio Del Sol!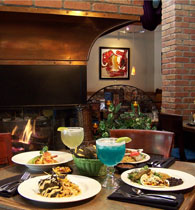 We were looking for a nice place to go to dinner last night and were pondering some of the local Evergreen dinner places.  We thought about several of the places we go somewhat regularly, Keys on the Green, Fiesta Jalisco, Tuscany Tavern, Whipple Tree, but we decided to try The Wood Cellar.  But when we got there with the kids, it was dark and loud and the first thing one of our kids touched left sticky mess all over her hand.  It just didn't look all that appealing for a family place.  The last time we were there, it was good pub-type food, and we thought it would be good again, but it just didn't feel all that nice this time.
So, we left and headed into town to Rio Del Sol.  It was a good choice.  We started with some of their home made chips and 2 salsas: Corn and spicy tomato.  And a big bowl of their guacamole.  And that just about filled us up.  But, then we ordered a really fantastic dinner: Fish Tacos, steak and a salad. I can really only speak to the fish tacos, as that's what I had, but they were full with great fish, a wonderfully tasty sauce and plenty of toppings. They tasted quite fresh and looked great too!  All were really delicious and we'll definitely go back.